20 Ft. Dual Lane Dry Slide with Blower For Sale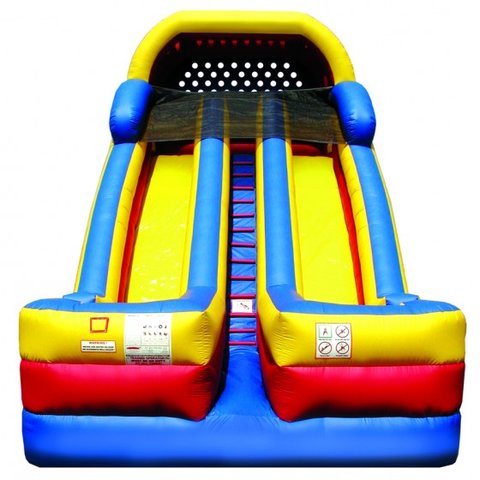 $2,600.00
Please call to reserve this item.

Actual Size: L25ft x W13ft x H20ft
Description
Dual Slides, Twice the Fun!
This multi-colored two-lane slide is sure to add excitement and speed to any type of event! The 22ft Dual Lane Dry Slide is perfect for any large event such as fall festivals, school functions, and more.! This impressive slide is exciting and thrilling for riders, and features "no jump" safety netting on top to ensure a safe ride. With two lanes, this slide is great for friendly competition or to keep lines moving quickly at larger events. Kids aged 3 and older-and adults too!- climb up the center of the 22 ft. slide and then choose between the left or the right slide, for a fast-track ride to the cushioned bottom with a safety stop. Thrill-seekers will love this exciting attraction!
-INCLUDES 1 HP blower
Purchased from eInflatables
-Ready to rent. NO rips, No tears, or patches. Great condition 8/10. Nothing wrong with it.