Gift Cards for U Bounce Inc.
Perfect for Party Planning & Gift Giving!
Birthday Surprise!

Looking for a special way to say, "Happy Birthday"? We have the best option for you. Gift cards! Give them an experience they will cherish for a lifetime - a party creating some amazing memories with awesome guests!
Do you want to contribute to an event? Gift cards are a great way to do just that! This is the perfect option for grandparents and family members to contribute to the "best party ever" for that special someone. Gift cards are also a great option for planning a special event when you're not sure of dates but want to donate. Gift cards are also a great budgeting tool to help plan for your next event.
Fundraising & Unique Gifts
Everyone loves to have a party, sometime! Purchase gift cards for any occasion such as holidays, birthdays, graduations, or 'Just because'. These are also great gifts for basket raffles, giveaways, and fundraising. They are sure to make you money!
Gift cards do not expire. Gift cards can be used on any purchase or rental that U Bounce Inc. offers.
$50 Gift Card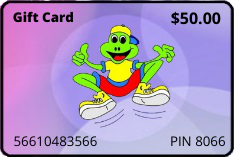 $75 Gift Card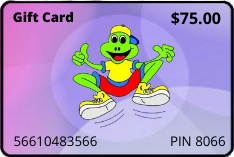 $100 Gift Card