Bullseye Archery Game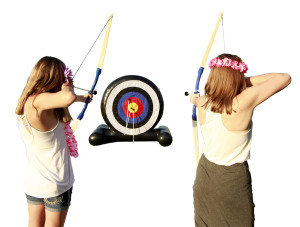 Add this to your cart to Check Availability or to Get A Quote for any amount of time!
| | |
| --- | --- |
| Super Saver-4 Hours | $129.00 |
| Most Popular-5 Hours | $135.45 |
| Extra Fun-6 Hours | $141.90 |
| All Day-8 Hours | $154.80 |
| Overnight - Next Day Pickup After 6:30 AM | $193.50 |
| 2 Days | $225.75 |
Setup Area: L20ft x W10ft x H6.5ft
Actual Size: L6ft x W4ft x H5.5ft
Monitors: 1 (Not Included) Attendants can be provided for an additional fee by clicking the link
Electrical Outlets: One 110V outlet within 75' required. We provide the extension cord. Generators are also available for rent if an outlet is not within 75ft.
Age Group: Ages 7 and Up
Description
Experience the Thrill of Archery!
The Bullseye Archery Game is the perfect way to experience archery. Whether you're a seasoned pro or have never picked up a bow, this game offers a new and exciting challenge for kids over the age of 7 (and adults too!). The Bullseye Archery game features S.A.F.E Archery non-lethal arrows and can be played with one or two players at a time. The S.A.F.E arrows have the same flight characteristics as a standard arrow, yet are much safer, making the Bullseye Archery Game perfect for indoor use. A brightly colored plastic Velcro disc is attached to the end of each shaft. When your arrow hits the target, the disc remains in the "hit" area as the arrow falls away softly. This leaves a distinct visual "marker" that can be overlapped by you or your opponent, tracking the progress of the players as they take turns shooting at the over 5ft. tall inflatable bullseye. The object of the game is to get as close to the bullseye as possible, and the player who gets the closest wins! Alternatively, you can play by points - whoever accumulates the most points, wins. This Bullseye Archery Game is excellent for indoor or outdoor events and will keep your guests entertained for hours on end. Channel your inner Katniss and book this new and exciting archery game rental today. Win or lose, you and your guests are sure to have a blast with the U Bounce Archery Game rental.
Secure your date, before it's too late!
Book Easily Online Today!

Amazing Archery Game for Indoor or Outdoor Use; Ages 7 to Adults, Any Skill Level
Features - S.A.F.E. Arrows, S.A.F.E. Archery Bows, and Large Velco Bullseye
Professional On-Time Service!
Cleanliness Guaranteed!
Cancel up until 7 AM the morning of your event due to bad weather and receive a refund of your deposit.
Reserve the Bullseye Archery Game TODAY!
Check out more interactive inflatable games by clicking the button below!